Staff and Leadership Team
Mr. Trevor Hayes
Mr. Hayes brings a wealth of knowledge and professional experience to our band community. Prior to his arrival on the Treasure Coast, he served as the Director of Bands at Santa Fe High School in Alachua County, where his bands consistently earned Superior Ratings in the Marching and Concert categories at the Music Performance Assessments (MPAs). He spent a total of four years as the Director of Bands at both Rutherford High School (Panama City, Florida) and Mathews High School (Mathews, VA), where he gained experience conducting symphonic, marching and jazz bands, as well as orchestra and choir students. He currently teaches Instrumental Music at the Creative Arts Academy of St. Lucie in Fort Pierce.  
Mr. Hayes graduated cum laude from the University of Tennessee at Chattanooga with his undergraduate degree in Instrumental Music Education. While at UTC,  he performed with the Marching Band, Concert Band, Wind Ensemble, University Orchestra, Jazz Band, Trumpet Ensemble and Men's Chorus at UTC. Mr. Hayes holds Florida educator certification in K-12 Music. He looks forward to continuing to uphold the standard of excellence that is synonymous with Tiger Regiment while turning the page to a new chapter for the music program at Martin County High School.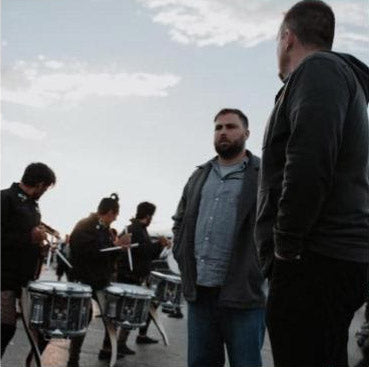 Cisco Hance
Hey everyone! My name is Cisco Hance and I will be the Assistant Band Director and Battery Arranger. I have spent the last 21 years of my life dedicated to the marching arts, and am super excited to be back teaching where I started my career, here in Martin County.
John Egan
Johnny Eagan has been the Band Director at Dr. David L. Anderson Middle School for the last 7 years where he has recently been celebrated as AMS Teacher of the Year. A graduate of University of Florida and Martin County native, Mr. Egan has been thankful for the opportunity to return to his hometown to continue the tradition of music excellence in Martin County School District.
During his short career as Band Director, Mr. Egan has grown the music program to over four hundred students, and is currently celebrating four consecutive years of District MPA and Solo & Ensemble Superior ratings.
Mr. Egan runs an active Saxaphone studio, and continues to support the overall strength of the Martin County School District music programs.
Marilyn Southwick
World History teacher at MCHS (husband is the MCHS Culinary Instructor)
Tiger Regiment Color Guard Alumni c/o 1996
FSU Marching Cheif Guard c/o 1999
I bleed BLUE & GOLD and will pop-quiz you on the meaning of SUDA at anytime.
Momma of brass player c/o 2024
Future Tiger Regiment members momma
On campus support for ALL of our Regiment kids